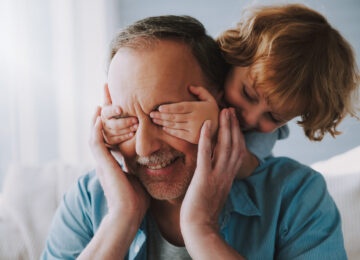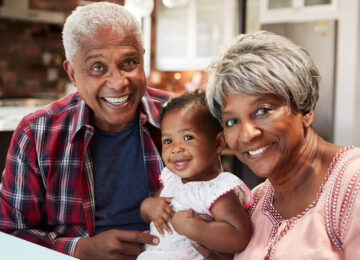 A Grandparent DNA Test is often one of the better relationship DNA tests to perform to determine paternity of a child when the alleged father is missing or not available for testing.
Grandparents' rights are often forgotten when it comes to paternity testing. A Grandparent DNA Test is often one of the better relationship DNA tests performed to determine the paternity of a child when the alleged father is missing or not available for testing. Grandparents seek DNA testing on their grandchildren for two common reasons: they have doubts about the paternity of their son's or daughter's child, or they would like to prove that they are related to a grandchild whose family denies the relationship and bars them from developing a relationship with the child.
Grandparent DNA test results may be used as proof in Social Security benefits, other inheritance and insurance claims, and some immigration cases. We recommend that child's mother add her DNA to the grandparent testing since it helps to facilitate the analysis and obtain conclusive test results. Peace of mind or legal reason? Whatever is your intention to opt for this test, our experience and accuracy in grandparenting testing ensure that you get your answers. We have strict privacy protocols to maintain the confidentiality of your test results and never share/sell your DNA information to third parties. Grandparent DNA test results are usually available in 5 days after the collection of DNA from all the concerned parties.
The purpose of grandparent DNA testing is rather a simple one to establish family relationships when the alleged father is missing or not available. Like any other DNA test, it's test results are used either for personal knowledge or legal purposes. Whichever is your requirement, Accurate DNA testing has got you covered.
Testing Throughout the United States (U.S.): If one party is located in a different city or state, we can setup testing at a partner laboratory site throughout the U.S.
Grandparent Test for Personal Knowledge: If you need test results for only your peace of mind, we recommend personal grandparent DNA testing to our customers. Our prepaid home DNA testing kits give you the option to collect DNA samples in the comfort of your home and send it to us for testing. Please note that the results of the personal DNA test are not court-admissible and can't be used for legal purposes.
In case you think may need results for legal purposes in the future, we advise you to choose legal testing in the first place to save your money and time.
Grandparent Test for Legal purpose: DNA sample collection must take place at an approved location for legal use. We coordinate with the authorized facility near you for collection. The professional collector compiles your identification data, completes paperwork for the test, and sends the package to us for testing. The results of a legal test are court-admissible and can be used as legal proof for social security benefits, custody, and insurance claims.
We are the most trusted grandparent DNA test labs in California.
We offer both types of grandparent DNA testing facilities to our customers, i.e., personal and legal, throughout California. Our home DNA test kit is easy to use and make DNA collection at home simple and efficient. With our best grandparent testing solutions, we cater to the DNA testing needs of people of Oakland, San Francisco, Los Angeles, Santa Ana, Anaheim, Bakersfield, Fresno, Irvine, Long Beach, Modesto, Riverside, Sacramento, San Diego, Stockton, Tracy, Vallejo and other major cities of California. We are committed to providing you paternity answers with utmost certainty and privacy.
FREQUENTLY ASKED QUESTIONS
Are you ready to take the next step?
DNA testing is the only way to be sure. Accurate C & S Services provides reliable results guaranteed! We support all major testing methods, so you know you're getting the right answer for your needs—no matter what they are.