Accurate Screens is an experienced government contractor with exceptional CPARs past performance ratings in all rated categories. Accurate Screens has supported contracts with the Department of Energy in Amarillo, TX and Oak Ridge, TN, respectively.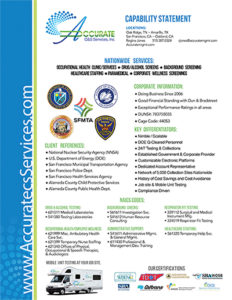 Accurate Screens Inc. Services
Capabilities Statement
To obtain a full copy of our capabilities, please contact us to request a full copy of the statement.
---
Teaming On Government Contracts
Accurate Screens partners with companies to qualify, engage and win government contracts. Depending on the opportunity, our expertise can provide competitive advantage and differentiate from others. We are just as excited about winning government contracts as the next company. If you would like to team with Accurate Screens on government acquisitions, please contact us (866-382-2802).